At Pickering Village Dental, our dentists offer both in-office and take-home teeth whitening options to help our Ajax patients brighten their smiles.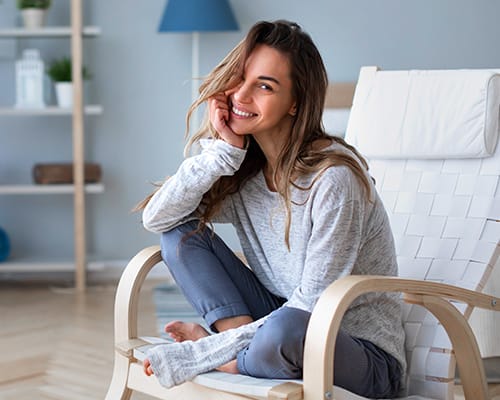 What is Teeth Whitening?
If you're looking for a safe and effective method to remove stains and lighten the colour of your teeth, you may want to consider professional teeth whitening at your dentist's office. 
As we age, our teeth start to become more susceptible to staining from food and other substances.
Bleaching agents used during the teeth whitening process are designed to reverse the effects of staining and aging, lightening the colour of your teeth. 
How Teeth Whitening Works
Peroxide-based bleaching agents in teeth whitening solutions work to lighten the colour of your teeth. As the active ingredient breaks down, oxygen acts on the tooth enamel, creating the whitening effect. 
In-Office Teeth Whitening
In about two hours at our dental clinic, you can have your teeth professionally whitened.
To begin, your dentist will put a barrier around your gums to protect them, then apply a thin layer of gel, which will chemically activate on each tooth.
This process is repeated a few times until we achieve the desired shade of white. 
Take-Home Teeth Whitening
We offer at-home teeth whitening options at Pickering Village Dental, so you can whiten your teeth in the comfort and convenience of your home.
Custom whitening trays will be created to fit your smile precisely, and your dentist will provide you with thorough at-home instructions to follow during your course of treatment. 
Teeth Whitening FAQs
Read the answers to our most frequently asked questions about teeth whitening at Pickering Village Dental.