At Pickering Village Dental Office, the technology we use helps us provide patients with efficient dental care including dental lasers, digital x-rays and intraoral scanners.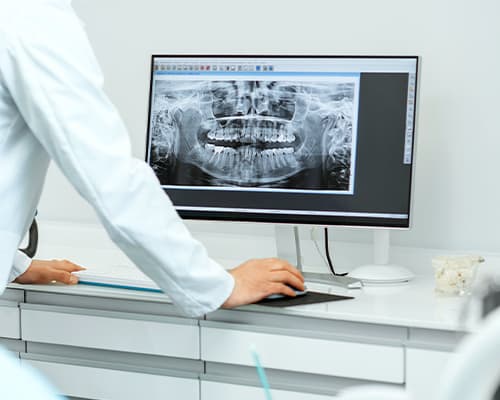 Technologies at Our Clinic
The technology used at Pickering Village Dental Office helps us make your dental appointments run more smoothly and plan effective treatments. Since we can display digital x-rays and scans on monitors in our treatment rooms, we're able to show you any issues in your mouth and walk you through your treatment plan. 
We strive to provide patients with efficient dental care, and ensure they are fully informed regarding their oral health. Technology helps us accomplish this goal.
Digital X-Rays
Instead of traditional photographic x-ray film, digital x-rays operate with digital sensors to produce extremely detailed computer images of your teeth and gums, in addition to other oral conditions and structures. This enables your dentist to examine parts of your mouth which are not visible to the naked eye.
Panoramic X-Rays
Panoramic x-rays help your dentist produce a single flat image of your entire mouth. This detailed photograph represents the teeth, temporomandibular joints (TMJ), upper and lower jaws, sinus and nasal structures. We often use panoramic x-rays to help plan treatments for implants, braces and extractions.
Soft Tissue Lasers
Dental lasers (extremely focused light beams) are valuable for a number of soft tissue procedures, typically for repair and healing purposes. They help our dentists perform dental procedures such as lengthening crowns, reshaping gums or treating periodontal disease while reducing pain, as well as minimizing need for medical intervention.
iTero Intraoral Scanner
The iTero® intraoral scanner produces digital dental impressions, a great alternative to traditional dental impressions that can often be time-consuming and messy. Using an optical scanning wand, your dentist captures a digital image of your teeth within minutes. With this device, your dentist gathers extremely accurate data to create digital replicas of the hard and soft tissues in your mouth.